Producers Letter: January 2023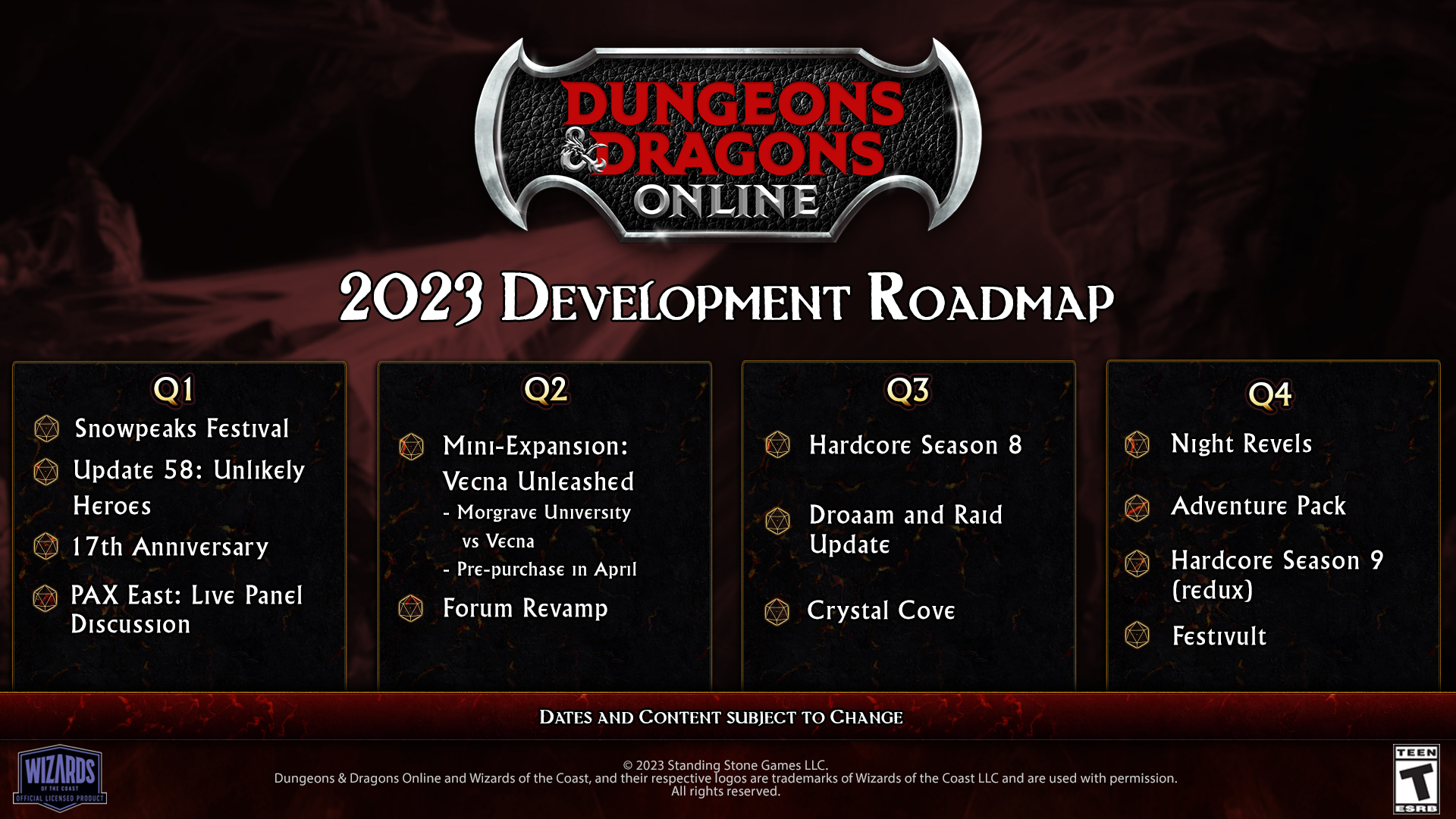 Greetings! I'm Producer Amanda "Tolero" Grow, and today I'll be giving you a look at what's coming up for DDO in 2023. I hope that your New Years has been off to a wonderful start, and we're looking forward to more fun and excitement in DDO this year.
If you're new to DDO or coming back after a long break, here's a recap of the latest things that have been added to the game: Last year our story took us to the Isle of Dread, where in addition to fighting dinosaurs, players came face to face with the infamous D&D villain Vecna! We had an exciting Hardcore Season in the summer, as players were hunted down by deadly Hounds throughout the game. We added Archetypes to the game, bringing new ways to play and build our D&D classes. And we introduced a major overhaul of the Character Bank, with filters, customizable tabs, and expanded amounts of storage there. Towards the end of 2022 we debuted our latest Adventure Pack which brought players back to Sharn to continue thwarting Vecna and others over the fate of the Planar Eyes.
Now that I've covered the big beats of where we've been, let's talk about where we are going next. Our game will be celebrating its 17th anniversary this year with fun free content! We'll introduce three new free Archetypes as well as a free Dungeon for all players to play.
Work in progress rendering of our upcoming 17th Anniversary armor! 
The free quest will set the stage for the upcoming Mini Expansion in the spring, where players will help Morgrave University try and neutralize the threat posed by Vecna. Our long-running story will reach a peak we know you'll want to be a part of! We'll have a lot more information about the story and content of our mini-expansion as we get closer to it. After that we'll be kicking off a new Hardcore season this summer with another rules change up, but we'll release more details about that later.
We spoke last year about work being done to reduce lag and improve game performance, and you saw some elements of that work get deployed in 2022. This work will continue in 2023! We've been focusing on the way the game communicates with itself, along with making some of our more complex systems more efficient behind the scenes. One reason for this focus is that we are able to measure the impact it has, before and after, and while no one fix will banish lag for good, we are able to see the benefits of these small but steady improvements over time. We know you want us to make lag reduction a focus, and we agree! 
There are more features and content happening later in the year, such as a Legendary revamp of Droaam content and another Hardcore redux season, but this should give you a good sense of what is in store for the first part of 2023 and beyond. We can't wait to see you in game!