The Night Revels Guide
Here is a guide to The Night Revels! This guide will give you an overview of what to expect during this haunted time, and also provide a list of available items to acquire. All of the images can be opened in their full size by clicking on them. 
The 2023 Night Revels Event begins on Wednesday, October 4th and runs through October 31st!
How to Play:
---
When the Plane of Mabar makes its presence known in Delera's Graveyard (located in House Jorasco in Eberron), the spooky times begin! Characters can enter a special instance of Delera's Graveyard that offers a challenge difficulty from 1 to 35. When defeating monsters in the Graveyard, characters can receive Darkest Chocolate, which is used as a base ingredient for many recipes, or a Night Revels Key, which is used to enter one of our many special event-themed dungeons.
There is also a small chance to find Darkest Chocolate or Night Revels Keys in any chest inside of a quest while the event is active. You can also run any of your favorite quests on Hard difficulty or above for more chances to get chocolate and keys! A new Champion type called the Shadow of Mabar appears when Night Revels is active, and defeating these Champions provides a chance for a chest to appear which contains Pieces of Darkest Chocolate and sometimes a Night Revels Key.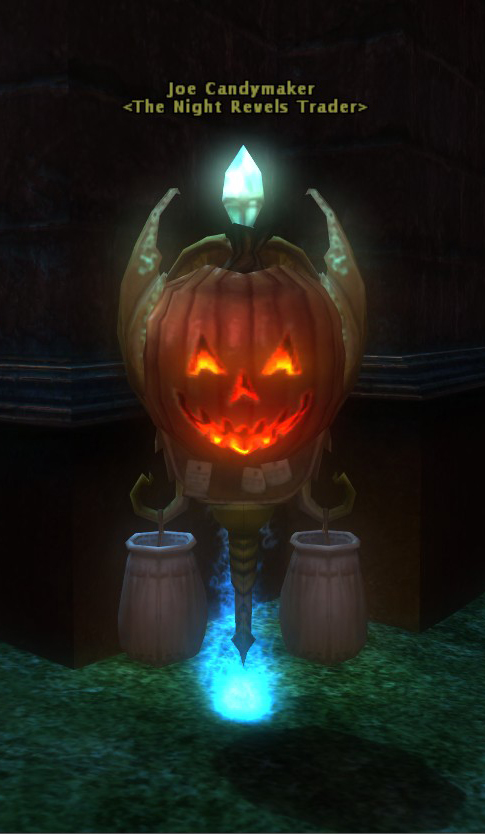 Use a Night Revels Key to enter an event-themed dungeon! The entrances are located in a special tavern area in Delera's Graveyard called The Crypt, and are set up like Challenges, offering parties or individuals the opportunity to enter them at any level from 7 to 35. Completing these dungeons on a character under the level of the challenge rating provides an ingredient bonus, while completing the dungeons on a character above the level of the challenge rating provides an ingredient penalty. 
Haverdashed - Shadowy Caramel
Getting Ahead in Lordsmarch Plaza - Shadowy Caramel
Hayweird Foundry - Pinch of Sinister Cinnamon
The Snitch and the Lich - Pinch of Sinister Cinnamon
Smashing Pumpkins - Black Apple
Gravework - Black Apple
The Kobolds' Newest Ringleader - Spooky Almond
Under New Ravegement - Spooky Almond
Eternity Unleashed - Can provide a Spectral Dragon Scale
The quests also provide Darkest Chocolate when completed.
The Night Revels Vendor is located in either House Jorasco, near the entrance to Delera's Graveyard, or in The Crypt, and is the place to turn in all of those event ingredients for candy, consumables, and items!
The DDO Store offers Lasting Night Revels Keys and Elixirs of Spooky Luck, which provide a +10% bonus to the chance for all chests to contain certain Night Revels ingredients. The Elixir of Spooky Luck lasts for one hour that you are logged in and in a quest, and pauses when you are in a public area.
NOTE: The ingredients you collect when the Night Revels is active spoil, and cannot be used for future Night Revels events. Keys and Elixirs purchased in the DDO Store never expire.
New Rewards for 2023!
This year's Night Revels features new rewards, including:
Mount: Reaper's Steed (Red)
Pet: Spectral Pseudodragon Certificate
Cosmetic Armor: Defender of the Harvest
Cosmetic Cloak: Cloak of the Autumnal Feathers
Cosmetic Hat: Harvest Hunter's Hat
And returning with new benefits:
Almond-Coated Shadow Apple

Darkswirl Caramel Bite

Sweet Cinnamon Cloud

Almond Shadow-Spice Candy